Time-resolved infrared and terahertz spectroscopy of carrier dynamics in semiconductors with free electron lasers (InTerFEL)
The Humboldt University Berlin (HUB) is partner in this joint research project in the frame of the Russian-German collaboration Research on technological advances of radiation sources of photons and neutrons based on accelerators and neutron sources in cooperation with research organizations and universities of the Federal Republic of Germany.
The project aims at a better understanding of dynamics of photoexcited hot carriers in elemental semiconductors and in III-V semiconductors on the time scale of 10-100 ps by a combination of techniques and light pulse properties, which are only available from accelerator based photon sources, namely free electron lasers (FELs). With regard to semiconductors, this enables time-resolved experimental studies of e.g. the recombination and relaxation processes of photoexcited carriers. In most cases this is carried out using a so-called pump-probe technique.
In addition to this, the high pulse energy (field amplitude is up to ~100 kV/cm) combined with frequency tuning enables the study of different nonlinear quantum phenomena such as Rabi-oscillations, alternating current (AC)-Stark (Autler-Townes) effect and it substantially extends the potential of Raman spectroscopy. For example Raman lasing of group-V donors in silicon has been revealed using the infrared FEL at the FELIX facility (presently at Radboud University Nijmegen) and at the FELBE facility of the Helmholtz-Zentrum Dresden-Rossendorf (HZDR).
The HUB contributes by developing FEL-pumped, broadband THz-probe spectroscopy as well as FEL-based Raman spectroscopy at FELBE. Time-resolved spectroscopy and Raman spectroscopy of shallow donors and acceptors in silicon and germanium and of group IV and III-V semiconductor quantum structures will be carried out using the experimental facilities developed in the frame of this project.
The project is funded by the BMBF in Germany and the Russian Ministry of Science and Education and it is constituted by three teams from Russia and three teams from Germany. The Budker Institute in Novosibirsk and the HZDR in Dresden are well known leaders in free electron laser development, both having FEL for the IR and THz spectral range (NovoFEL and FELBE). The partner Leibniz Institute for Crystal Growth (IKZ) has extensive experience in growth and doping of highly perfect crystals. HUB and Institute for Physics of Microstructures of the Russian Academy of Sciences (IPM RAS) have been working for many years with the IKZ. That is extended by the partner from Karpov Institute of Physical Chemistry (Karpov IPC, Obninsk), which is experienced in neutron transmutation method to dope crystals very accurately.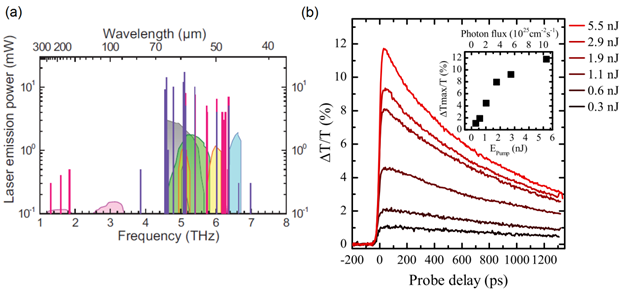 (a) Frequencies of THz-silicon lasers excited by FELs, narrow emission lines are based on resonant intracenter transitions and the areas show Raman-type laser emissions. The different colors symbolize different donors. (b) Typical pump-probe experimental dependences of relaxation of the photo-induced transmittance of impurity ground-to-continuum transitions pumped by an FEL (here n-Ge:Sb). Analysis of the decay time constant gives information about the relaxation mechanism.
Contact: A. Pohl