December 8, 2021: We are happy to announce that the PLD group joins IRIS Adlershof as a Junior Member.
October 27, 2021: The PLD group takes part in an open seminar about Milestones of Quantum technology with participants from around the world where we discuss important papers for Quantum Technology. Get in touch by email if you want join, Wednesdays 16.15 to 17.45.
October 5, 2021: Sebastian gives a talk at the Integrative Reseach Institute for Science (IRIS) of Berlin on Exploring Confined Carbyne.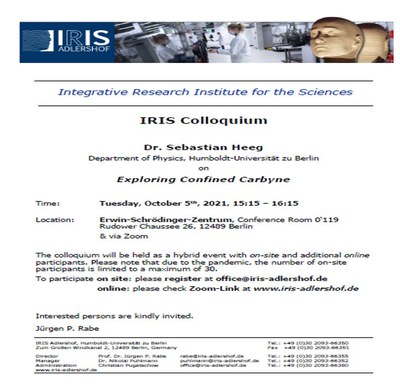 October 3, 2021: Welcome to Berlin, Gétulio! Gétulio Silva e Souza Júnior from the Universidade Federal do Rio de Janeiro in Brazil joins our group as a project student.
October 1, 2021: Welcome Johannes! Johannes Lechner from the Ludwig-Maximilians-Universität Munich joins our group as a PhD student.
May 1, 2021: Welcome Pablo! Pablo Hernández López from the Freie Universität Berlin joins our group as a PhD student.
March 17, 2021: Sebastian takes part in the HU Optics Spring Meeting 2021 with his talk Exploring confined carbyne.
March 1, 2021: Our group is born! Dr. Sebastian Heeg joins the Institut für Physik of the Humboldt University as the leader of the Emmy-Noether-Group PLD (Physics of Low Dimensional systems) with the project Carbyne for Optoelectronics and Optomechanics.